WARNING
This post can contain a SPOILER
Batman Villains- MR. FREEZE
I really like the character Mr. Freeze. After the film Batman and Robin, where mr. Freeze was played by Arnold Schwarzenneger I was very disappointed. Mr. Freeze with diamonds big like a coconut, shining with led lights more like a star on a cosmic disco, living without his suit with rabbit boots and bathrobe? His beloved wife Nora looking like a porn star? Are you kidding me? The film is much worse than the movies directed by Tim Burton. But about the comparsion of motion pictures later.
By playing the game I was pleasantly surprised. I know the modest version of Mr. Freeze from comics, that looks really not interesting, i know the LED light version of Mr. Freeze from the motion picture, that looked more like a Christmas tree than a serious villain. But this time Mr. Freeze looked frosty, evil, serious and I really like him. I like his mutated voice, he´s speaking in his suit.
1st comic version of Mr. Freeze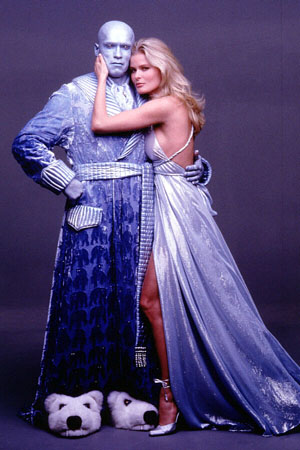 Freeze with Nora without suit - motion picture
Motion picture version in suit
Arkham City version
Batman MR. FREEZE trailer
In the game we meet Mr. Freeze for the first time. He wasn´t mentioned in the first part of the game, Arkham Asylum.
There are several objectives about Mr. Freeze. But the most interesting one I find the fight against him in the frozen room. You have to defeat him several times but you can´t use the same technique. More in the vid, the fight starts at 6:15
Penulis : germia ~ Sebuah blog yang menyediakan berbagai macam informasi