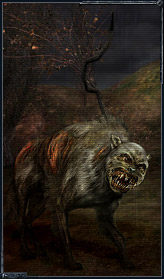 PSYDOG
- It looks like pseudodog but it is grey and it has psychical powers. He can show the copies of itself and we than think that it is able to transportise very fast. He confuses vision and hearing.
CZech visitors:
Vypadá jako pseudopes, ale je šedý má navíc psychické síly. Může vytvářet svoje kopie a vypadá to, jako by se velice rychle přemisťoval. Může také ovlivňovat vidění a sluch.
- It looks like normal human (soldier, stalker, ...) but it has weird movements - head lies on the soulder, the legs look like two pieces of wood and the eyes shine. Killing him is like killing other normal humans in game - best is to shoot in the head. Be careful, they look like a little bit retarded, but they are dangerous sharpshooters.
CZech visitors: Vypadá jako normální člověk, ale má podivné pohyby - hlava mu leží na rameni, nohy jsou jako dvě špejle a oči mu svítí. Zabít se dá stejně jako ostatní lidé ve hře - nejlepší je zásah do hlavy. Ale dejte pozor, zombíci vypadají trochu postiženě, ale jsou nebezoeční ostrosřelci.
OTHER MUTANT CONCEPTS
not promulgated in original games - only mods



Click on the name to view their profile on
stalker.wikia.com
Penulis : germia ~ Sebuah blog yang menyediakan berbagai macam informasi